I recently passed my one-year mark of blogging on September 25th and this was the post that I was planning to do for it but on September 25th. But that day passed because I was on a break, so when is a better time to do it than now? Blogging has been my pass time this entire year. I decided to pick up blogging because I wanted to share my thoughts about the animes I watch with people who share similar interests with me.
1 – You pick up things as you go
When I started my blog, I knew basically nothing which was foreseen, because when you start something new, you aren't meant to know everything! I knew how to create a blog and the basics of course but I'm talking about blogging. I didn't know where and how to reach an audience. I thought that after I post for the first time, My blog would instantly blow up and boom! Internet fame is just like that. Boy was I wrong.
As time went on, I picked up things like firstly how to use WordPress to my advantage. I also learned how to develop my writing from reading other people's posts. Reading really helped wonders when it came to writing.
But you cant expect that when you go through your past posts, that they will be as good as your recent ones. I get second-hand embarrassment sometimes from reading my old posts, but that shows me that me that I really learned something along the way to get to where I am today.
2 – The Ani-Blogging community is VERY active
When I started my blog, I thought that the anime blogging community was a dying breed, with only a couple of blogs here and there posting occasionally, but I was extremely wrong. The aniblogging community is extremely active. When I began looking for blogs, I only followed around 10-20 in the first month, but not I've got over 200 followed and my email inbox is bursting with a TON of posts. Where do you guys get the time to write?
I think that ani-bloggers are the most unique type of anime fans, mainly because well.. writing is a unique thing and everyone does it so well. (Not me though.). It seems that every day there is a new anime blog and a new person to share interests and opinions with!
3 – Finding your own audience can be somewhat difficult (or maybe its just me)
I think I don't have a specific audience to which my writing is directed towards. Obviously anime fans, but there is a variety of different anime fans. I know up till now, I have around 15 normal readers who I know always read my work. Most of them are mutuals online, and some are my real-life friends too. But you know what? I think that not having a specific audience is ok, and having one is also great too.
Writing is something that I do for myself, and Im happy that there are people out there who read it, but even if there was only 1, I'd still be happy. It may get hard sometimes knowing that some posts aren't getting the traffic I want them to, but pushing past the difficulties is a part of the blogging process too.
4 – Stop Making your Blog work Sushiii!
I tend to stress out when I don't post, or if I can't finish a post on time, or if no ideas are sprouting through my head. This tends to happen a lot. Blogs are work if you make them work, which I unintentionally do… Alot. The moral of this is don't be like sushi. She doesn't know what she's doing half the time.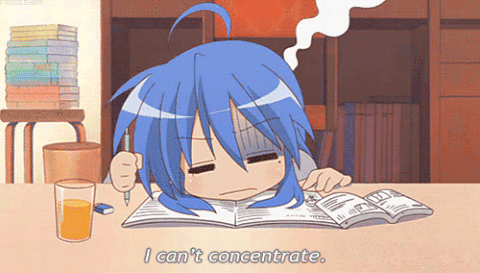 But for real, if you are a blogger, or want to start a blog, make sure that you have your ideas straight on why you are blogging, I tend to confuse mine a lot. My blog is a hobby and sometimes when I feel like my blog is starting to become work, It loses the fun in it and I just stop enjoying it for a very long while. Enjoy writing, don't make it a job cause that's not fun (Unless it is your actual job.)