Tokyo Revengers was a ride! And a crazy one at that. I actually stayed up an entire night to read it because I couldn't put it down. When I heard that this manga was getting an adaptation I was going to pick it up to read but sadly I never got around to doing that, So I watched the first arc and then started the manga because I had absolutely no patience to wait for the next episode.
Official Synopsis:
Watching the news, Takemichi Hanagaki learns that his girlfriend from way back in middle school, Hinata Tachibana, has died. The only girlfriend he ever had was just killed by a villainous group known as the Tokyo Manji Gang. He lives in a crappy apartment with thin walls, and his six-years-younger boss treats him like an idiot. Plus, he's a complete and total virgin … At the height of his rock-bottom life, he suddenly time-leaps twelve years back to his middle school days!! To save Hinata, and change the life he spent running away, hopeless part-timer Takemichi must aim for the top of Kanto's most sinister delinquent gang!!
Characters
The characters in this Manga make up the entire manga, They are more important than the plot because they hold it all up. The main character Takemichi was unlike others in your typical fighting anime or manga. He isn't strong, doesn't have any special skills (apart from time-traveling), and is pretty weak. But I think the thing that keeps him apart from a basic MC is his mindset. He has this inspirational feel to him, he is determined to help everyone and won't give up on his goal. He doesn't give up no matter what, even if he's on the verge of death or someone close is killed.
There are a lot of side characters, and each of them has their arc or moment, luckily the manga doesn't push them off the side and gives them each their own time. During the first 30 chapters, My favorite side character was Mikey but later on, I changed my mind. Mikey is a great character, leader of Toman, and extremely strong but his development and his future self-personality threw me off. He seemed like he was getting himself into trouble on purpose and being 'edgy' on purpose too. It put me in the mood to throw hands and go into the manga and ask him why is he just doing things that make absolutely no sense.
My current favorite character is Chifuyu, the Vice-captain of the First Division. Chifuyu didn't question Takemichi when he told him he could time travel and helped him every step of the way to fix the future. He never turned down any request and was extremely caring towards him. How could someone dislike such a nice character?
There are not many female characters in this Manga, but the 2 most important and Hinata and Emma Chan. Both are incredibly strong-hearted girls and even though the manga doesn't focus on them as much, they always make an impact on the other characters. There are a lot more characters but to talk about them all would make this post endless.
The author did an amazing job on writing the antagonist of this manga because I've never hated someone so much. When you think the antagonist Tetta Kisaki is about to get a bit better, he goes and does something even worse. We also have other antagonists like opponent gangs and their leaders, but the main villain is Kisaki.
Plot:
Gangs, Delinquents, Fights, Time travel, and revenge all mixed into one anime, who could ask for more! This manga has a plot that immediately hooked me (causing me to speed read hehe). The plot of Tokyo Revengers is like a double-edged sword and you can be in the middle between liking or disliking the arcs. I didn't have much that I disliked and I think that it was mostly well written. The work has so many nuances, plots, and foreshadows that you are developed into the number of interesting things that the story will introduce you to. I shed some tears during my read of this manga, It's not often I'll cry for a manga (I didn't even cry for demon slayer!).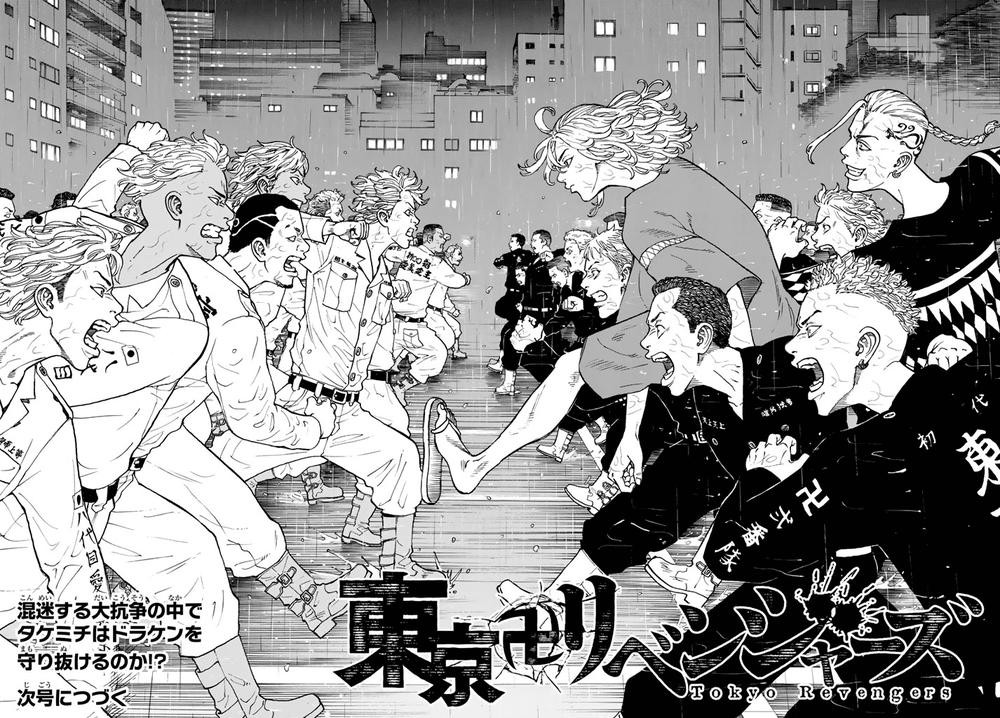 That comes to the end of the post, I might do some reviews on the arcs later but that idea is still in the air. Thanks for reading!