Ok, I told you all I have an addiction to watching studio Ghibli Movies, Its so aesthetic! I've also told ya'll in one of lists that I despise romance animes, but Howls Moving castle is pretty good, It had romance but not that much that made it icky and all lovey dovy. I would say that it is my second favorite Studio Ghibli Movie after Spirited Away.
The Story is about a Girl name Sophie, who is just a simple hat maker looking after her deceased fathers shop. When a strange lady arrives at her shop after closing hours, She asks her to leave not knowing she is the Witch of The Waste and ends up cursed. The curse turned her into an old Woman.
She decides to leave town to seek out the cure for her curse since the curse also includes not letting her speak about it at all, and ends up on Howl's Moving Castle. She had met Howl before, but now she was a 90-year old Woman.
When Howl sees her in his castle, he wasnt shocked, he simply asked her who she was, and she said she was the new Cleaning Lady, which Calcifer(The Fire Demon who ran the Castle) hired as the Castle was extremely Dirty!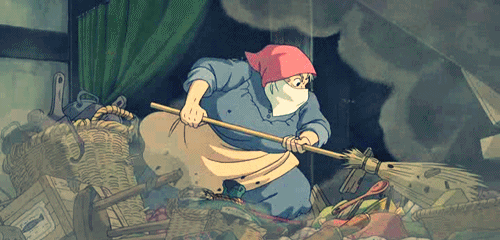 Sophie starts to clean, and before Howl leaves on his usual errands he told her not to get carried away with all the cleaning. But Sophie did, cause shes sophie. She went and arranged his hair products to and accidentaly placed his hair dye somewhere else and his hair returned to its natural color black. Howl went into depression because 'He though he wasnt beautiful anymore'.
Howl when his hair turned black is a teenager going through a mood swing haha, But Honestly in my opinion he does look better with Black Hair.
I don't want to spoil the whole movie, so I shall leave this post with my opinion, The Movie is amazing, it had amazing animation and also a good plot. I ordered the book and am still waiting for it to arrive, so once I get it, I will definitely do a comparison between the book and the Movies ideals.
Thanks for Reading!