Well Winter anime season has almost reached its end, with only 2 weeks left for most shows… Jujutsu Kaisen will end next week and the others the week after. I have been watching quite a lot of seasons, and last weekend, Mushoku Tensei ended. I haven't mentioned anything about Mushoku Tensei yet on my blog, so I thought Id do a first and final thoughts/review to conclude.
I'm not a Isekai fan, but Mushoku Tensei shook me (for an Isekai). It wasn't as good as Rising of the Shield Hero, but it does have raw potential. Season 2 will be hopefully coming out either during Summer or fall anime season. Now to actually discuss my thoughts on this anime.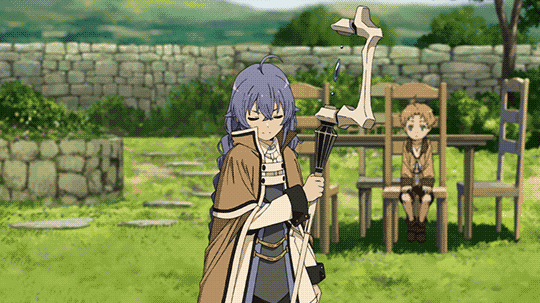 First off, I think that this anime was pretty good. I'm not just saying that it was good for the heck of it, but it was genuinely a solid watch. I've seen a lot of criticism over this anime saying Rudeus is way too perverted, but then again, doesn't all animes have a pervert in their lines?
The anime starts out as your basic Isekai, the main character dies by being hit by, not truck-Kun, but Bus-Sama and gets reincarnated into another world. Classic Isekai reincarnation. I'm happy that Mushoku Tensei didn't turn out like a normal Isekai where the MC is extremely overpowered and wants to defeat some demon lord or villain, This is more of a journey and how Rudeus and Eris overcome challenges.
I also love the sense of reality in this anime, In just 11 episodes, this show was able to keep me interested with different things but it didn't feel to rushed. They did pretty long time skips, but I felt like I wasn't missing anything in between. All the details were accounted for, They also cover realistic situations such as bullying.
The side characters have depth and aren't one dimensional. Even though the anime is only 11 episodes, It gave enough time to the side characters, and we were able to understand them and not just feel like they were there as extras. I think that the writing of this anime was exceptional, Even if you didn't enjoy Mushoku Tensei, you can tell that the anime had a good plot, story line and in depth characters.
The animation was peak, I really thought it was extremely well done, Not demon slayer worthy, but not that far behind. My favorites scenes were the animation particularly stood out to me was Rudeus's graduation test and the battle between Rudeus, Eris and Ghislaine vs the Kidnappers. I enjoyed seeing Rudeus using his magic in a battle, and the animation made it even more interesting.
Now that I've said all the good things about this anime, let me move onto the downside. I think that Rudeus is very perverted, I like him as a character, but some of his actions I just cannot accept. Yes, I understand he is a 40 year old man reincarnated into a child.. But I was going to drop this anime near the 4th episode because Rudeus's actions were becoming too much for me. But I didn't drop it because some people convinced me that there would no more perverted scenes after episode 5. They weren't wrong. After episode 5, there were a lot less scenes and more battles, and better character development.
Apart from Rudeus being, well, Rudeus… The show was good. I liked it, so I think if id have to rate it, Id give it a 7/10. Anyway, that's the end of my first and Final thoughts on this winter 2021 seasonal.